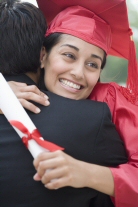 Welcome to the South Dakota Indicator 14 Post School Outcomes Survey Website
South Dakota Special Education Programs created the website to assist districts in examining their Indicator 14 data collected by Black Hills State University. This website will allow districts to see pre-generated reports to share with stakeholders, training materials, along with data analysis examination. We hope that the site will make data based decisions more useful for your district.
Background Information:
According to the State Performance Plan (SPP), every state and district will provide information and follow up survey for all students with disabilities on an Individual Education Plan. The students contacted are students who exited by age out, received regular diploma, or dropped out and did not return on year later.
Black Hills State University contacts former students by mail and telephone interview to assess areas in postsecondary education, employment, and adult living. This information can assist in improving high school planning for students with disabilities in the district.
For more information, contact Beth Schiltz at 605-773-4257 or beth.schiltz@state.sd.us.